Boca Grande boating and fishing is a must!  Whether you plan to bring your own boat, rent from a marina, or hire a guide; getting out on the water is well worth the time, effort and money.
Hire a Guide for Boca Grande Boating and Fishing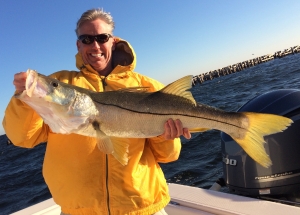 The easiest way to explore the waters of Boca Grande is to hire a charter captain (aka "guide") to take you fishing or simply exploring.  The Boca Grande Fishing Guides Association is great resource when deciding what species of fish you wish to target or style of boat.  Season and weather are critical factors when determining which type of fish to target, especially when it comes to tarpon, redfish, snook, grouper or snapper.  You can also visit the "Private Charter" page on this website for a few recommendation.
ExpBG "ProTip":  Drop us an email at Info@ExperienceBocaGrande.com and will be happy to make a few fishing suggestions based on season and desired experience?
If you decide to hire a Captain, you should be prepared to spend between $400 and $800 depending on the length of time on the water and number of fishermen.  Most guides prefer no more than 4 guests onboard or perhaps less depending on the boat and type of fishing.  Pay with cash or check, bring your own snacks/lunch/drinks (and maybe sandwich for the Captain) and don't forget to "tip" your guide at the end of the charter.  Sunscreen, hat and a rain jacket are usually a good idea.  Ask the Captain in advance about the weather conditions.  And don't be afraid to change plans depending on weather, availability of bait, slow bite or species of choice not abundant.  If you don't want to fish, but prefer to sightsee, just ask the guide, as most are more than willing to take you on a full, half, or quarter day trip out on the local waters.
Boca Grande Sightseeing by Boat
Getting out on the water is "must do" if visiting Boca Grande or thinking about purchasing real estate.  Visiting Boca Grande and not getting out on the water is like going to New York City and not seeing Central Park!  One great option for sightseeing, tours or a custom charter to a barrier island is Lady Grey Charters, LLC.  They specialize in understanding what you want to do and what type of experience you are looking for?  Island hop to lunch, sunset cruise or a picnic lunch on a private beach?  Lady Grey Charters, LLC can help you understand the season, weather, best times for shelling or plan special occasion on the water.
Bringing your own boat…
If you are bringing your own boat to Boca Grande, there are only two places to launch "on island" – at Uncle Henry's Marina and at the Innlet on the Waterfront hotel.  The typical fee to launch your vessel the ramp is approximately $50 round trip.  Both marinas  also rent a slips depending on availability.
There are a few marinas where you can rent your own boat, but local knowledge is important for navigating the area.  If unfamiliar, you should use GPS and stick to clearly marked channels.  Don't be afraid to ask locals for advice – they are usually happy to help out.  But a few extra bucks are well worth a professional guide when boating in the area for the first time.
Fuel, ice, bait, tackle, drinks and snacks can be purchased at three primary marinas. The Boca Grande Marina is full-service and has two restaurants, "Millers Dockside" and "Eagle Grille".  The Gasparilla Inn Marina and Whidden's Marina also offer fuel, bait, ice and other basic necessities.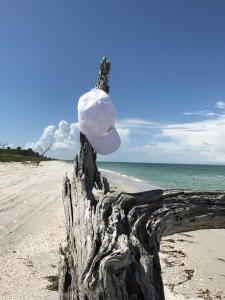 By far the best and most secluded beach to visit by boat is Cayo Costa.  With nine miles of pristine beach and acres of pines, oaks and mangroves, the barrier island is a must see.  Shelling is simply unparalleled due to the lack of permanent population.  Exp BG "Pro Tip": arrive early as the sun is coming up for shelling or take a picnic lunch with a few chairs and umbrella.
Dining Options – Cabbage Key
A day of Boca Grande boating and fishing would not be complete without a trip to Cabbage Key!  According to the legend, Cabbage Key is where Jimmy Buffett had the inspiration for his hit song, "Cheeseburger in Paradise".  The historic Cabbage Key restaurant rests high atop a 38-foot Indian shell mound and offers panoramic views of Pine Island Sound.  Pass the time counting the over 70,000 dollar bills wallpapering every square inch of the restaurant interior while sipping a pina colada and eating some peel 'n eat shrimp.  Cabbage Key also has rooms and cabins for rent spread out throughout the island.  While exploring this 100-acre island make sure you climb the watertower and see how many of the gopher tortoises you can locate who have fun names like Michelangelo and Donatello.  ExpBG "Pro Tip": plan an early morning visit for breakfast or make an evening reservation for dinner at Cabbage Key for far less crowds.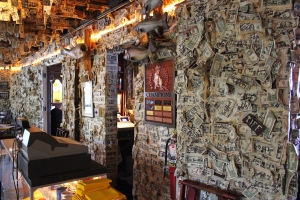 Tarpon Lodge
Tarpon Lodge, the sister property of Cabbage Key, also boasts a restaurant and overnight accommodations.  Although you can reach the lodge by car via Pine Island, from Boca Grande boating is by far the way to go and saves you well over an hour of driving time.  Tarpon Lodge is a bit more "upscale" than Cabbage Key with white linen table tops and of course air conditioning!  The Cuban sandwich is a must and any fresh fish of the day (especially if offering tripletail!).  Their Bloody Mary's are a house specialty with just right amount of spice, lime, celery and kick!  ExpBG "Pro Tip": Plan dinner and leave in time to catch the spectacular sunset on your boat ride home to Boca Grande!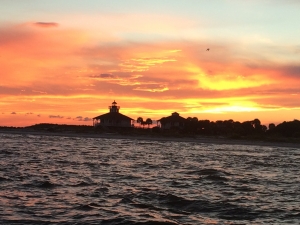 Find your own island!
There are plenty of other islands, sandbars and mooring areas, to simply stop and enjoy a picnic lunch on your own. Sometimes when the area is crowded, this option is preferred due to crowds at some of the traditional restaurants.  So don't be afraid to bring a few beach chairs, an umbrella and throw out an anchor to relax and dine on your own time.
Of course, there dozens of options for Boca Grande boating and fishing, including unique "island haunts/restaurants" throughout the area. Some are easier to get to than others, including: The Lazy Flamingo, Bokeelia; Barnacle Phil's, North Captiva; the Blue Dog Bar & Grill, Matlacha, The Collier Inn on Useppa Island, the Bubble Room on Captiva, and more.
For more information on the best experience for Boca Grande boating and fishing, hiring the right guide or knowing the best boat to accommodate your needs, simply email us at Info@ExperienceBocaGrande.com.