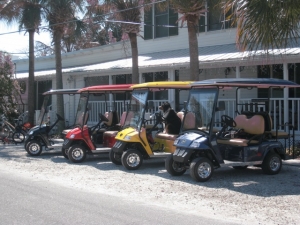 A Boca Grande golf cart tour is by far the easiest and best way to really see Boca Grande.  There are several golf cart rental providers on island, including the Gasparilla Adventures, Boca Grande Marina and Kappy's Market.
Rules of the Road for Boca Grande Golf Cart Tour
Boca Grande is one of the few places where golf carts share the road with cars, bicyclists and pedestrians.  It is important to know HOW you should operate a cart in Boca Grande, WHERE you are allowed to drive and WHO is allowed to drive. Golf cart operators should yield to everyone.  Cars, bicyclists and all pedestrians all have the RIGHT OF WAY over ALL GOLF CARTS at ALL TIMES.  Never drive too close to any person, bike, stroller or another cart.  Watch "Rules of the Road" video.
Scenic Places to see for Boca Grande Golf Cart Tour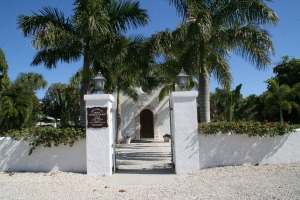 Make sure you take a camera on your tour.  The flora and architectural diversity are unmatched and both most appreciated in the Historic District of Boca Grande.  Leisurely explore the Boca Grande Bike Path which extends seven miles down the length of the island.  Banyan Street is another must see and photo op location for all visitors, but don't be surprised to encounter a wedding or photo shoot – yes it is that amazing!  Also, the island churches clustered in the downtown village are all unique and architecturally significant.
And if you want to step back in time to "old Florida", stop by Whidden's Marina and Maritime Museum on First Street. Founded by Sam Whidden in 1926, the Whidden's famly still owns and operates the marina which is a listed National Historic Landmark.  ExpBG Pro Tip:  Pack a small cooler and snacks for an island-wide tour.  You can easily spend a few hours and not run out of things to see!