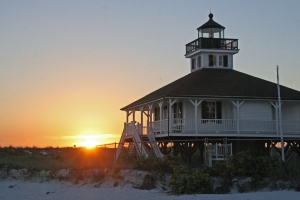 Boca Grande is home to two very distinct and historic lighthouses.  The Port Boca Grande Lighthouse is the oldest structure on the island.  It has been a beacon to mariners since 1890.  The house-dwelling style lighthouse,located at the southern tip of the island is also a comprehensive museum dedicated to Boca Grande's history.  The views of the Boca Grande Pass are unparalleled.  During "tarpon season" you will have a front row seat as fisherman battle and try to land the "silver king".  ExpBG Pro Tip:  Take a pair of binoculars during the World's Richest Tarpon Tournament and watch the action up close!
The Historic Gasparilla Island Lighthouse (aka the "Range Light") came into operation in 1932.  Originally built 1885, it was decommissioned and shipped to the island in 1927 from Delaware.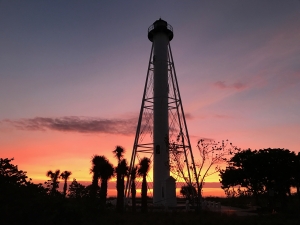 The Range Light recently underwent a nearly $2 million renovation to restore her to original glory.  Tours and climbs to the top of the Range Light are scheduled for the public periodically throughout the year.  Once to the top, views are amazing and well worth the reservation.  You can the entire Gasparilla Island, Downtown Boca Grande and Cayo Costa State Park to the south.
ExpBG Pro Tip:  Set up early on the beach.  Bring a bike so you can leave your chairs and umbrella (keep you parking spot) and ride Downtown for lunch.  Or better yet, pick up some lobster rolls and cole slaw from Newlin's specialty grocery and return for lunch with a view!
Public Facilities and Access – Boca Grande Lighthouse
Both parks for the Port Boca Grande Lighthouse and the Range Light are open daily to the public.  Visitors can park, have access to restroom facilities, picnic tables and also have handicap accessibility to the beaches directly adjacent to the lighthouses.  Caution: Tides can be strong, all swimmers should use extreme caution.