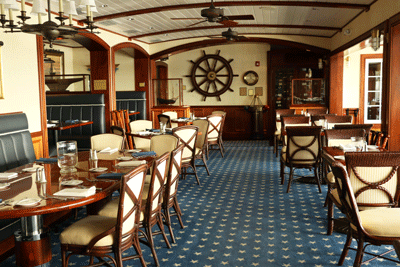 Believe it or not, there are only a few waterfront Boca Grande restaurants on the island.  The Eagle Grille can be found at the Boca Grande Marina on the second floor, overlooking the marina basin, Boca Grande bayou and Charlotte Harbor.  The Eagle Grille offers a more "New England" feel, with replicas of sailing ships, brass compasses, and ship's wheels.
The Eagle Grill is only open for dinner and offers a wide menu variety including several dinner salad options, a yummy ahi tuna appetizer, steak and fresh fish.  You can't go wrong with the burger, fried fish, shrimp or oysters.
Waterfront Boca Grande Restaurants – "Millers" History
There are actually two restaurants on property – Eagle Grill and Miller's Dockside Bar & Grill.  Both restaurants and the marina recently underwent massive needed renovations.  Locals and longtime visitors will remember the entire location as "Miller's Marina", which hosted numerous Tarpon Tide Tournaments in the second story screened in porch that now houses Eagle Grille.  The bar menu pays homage to the history with drinks like "Millerita" and "Miller's Mary".  The restaurant has a full bar and more than ample wine selection.
Depending on when you arrive, the marina can still be busy place.  Several fishing guides use the marina as "home base" for their fishing operations.  Before dinner, you can often see captains cleaning their catch from the day's charter as their clients tell fish stories from the day on the water.  In fact, if you interested in a charter, all you have to do ask.  Most captains will accept reservations on short notice or know another captain who is available.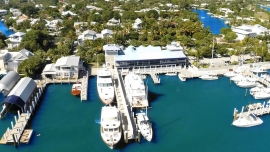 In short, The Eagle Grill is the quintessential island waterfront restaurant.  You will enjoy a great meal while also experiencing an active marina.  Reservations are accepted and comfortable seating is available for large parties.