Boating in Boca Grande is a must!
No trip to Boca Grande is complete without getting out on the water.  There are numerous options to go boating in Boca Grande, including paddle boarding, hiring a captain or renting your own boat.  And the destinations for sightseeing, fishing, going to lunch on a neighboring island or just anchoring on a sandbar are all great options.
At ExperienceBocaGrande, we are happy to offer advice for a personalized experience for boating in Boca Grande, whether that means helping you chose the right fishing guide, directing you to the best shelling beach, offering bird watching tips or just giving you a few "off the beaten path" recommendations.  Simply email us direct at Info@ExperienceBocaGrande.com
By far the easiest way to go boating in Boca Grande is to hire a captain.  The best place to start is the Boca Grande Fishing Guides Association.  All guides are licensed and insured and can suggest an experience that is best for you.  Whether you want to fish for tarpon or just target "whatever is biting", don't be afraid to seek advice based on your expectations.  You don't have to fish either.  You may just want to explore the waters around Boca Grande and Charlotte Harbor.
If you are looking for a little adventure and exercise, maybe paddle boarding is a good option.  You may not go as far, but you will see flora and fauna up close and personal.
Another option is to rent a boat.  The waters around Boca Grande can be difficult to navigate, so some boating experience is recommended.  If you comfortable at the helm, many channels are clearly marked and locals are happy to answer any questions.
Destination, time, weather and season all matter when choosing a boating experience.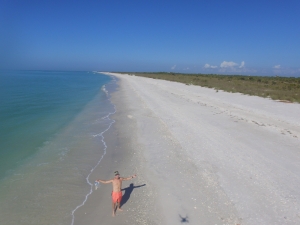 If boating to lunch is on your menu, there are a few easy and fun places to go.  Cabbage Key Restaurant is by far the most popular destination.  The lunch hour from 11:30 to 1:30 can be rather crowded, so if flexible arrive earlier or later for a less crowded experience.  ExpBG Pro Tip:  Go for breakfast!  Tarpon Lodge is another great destination.  Not quite as casual as Cabbage Key, and the menu is a bit more upscale on options and price.
Of course you can always take your own lunch on the boat.  If leaving Boca Grande, you can shop at Hudson's, Newlins or the Inn Bakery for your lunch needs.  And if you do decide to lunch on the boat, you can stop just about anywhere, whether floating in the Gulf or anchoring up at Cayo Costa or any sandbar.  ExpBG Pro tip:  It is always easier to anchor out of the wind and waves, so consider wind direction before you choose a spot.
Boating in Boca Grande is a must.  If you don't get out on the water, it would be akin to visiting New York City without seeing Central Park!  Of course the best way to get the most out of your experience is simply to drop us an email at info@experiencebocagrande.com  We can help you get the most out of your Boca Grande experience!