Have you ever dreamed of owning a $13.5 million beachfront home?  Well now is your chance!  A Boca Grande beachfront home auction will take place on January 10, 2019.  And there will be no reserve, meaning the sale will go the highest bidder – no matter the price!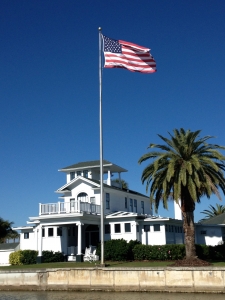 Simply stunning, this luxurious beachfront estate is located at 16160 Sunset Pines Circle in Boca Grande, Florida.  Originally listed for $13.5 million, the no reserve auction has raised a lot of eye brows.  Listed today at $10.9 million, the home is currently the second most expensive home for sale in Boca Grande.
Boca Grande Beachfront Home Auction – No Reserve!
Carol Stewart, a Realtor with Michael Saunders & Company, is the listing agent and stated recently, the "list price is for reference only" and the "one of kind estate will be sold in cooperation with Platinum Luxury Auction without reserve!"  What appears to be willingness to sell at any price, or at least to the highest bidder, has led to many questions.  Who owns the property?  Why are they selling?  Why at auction?
What we know about the Sellers
According to the Charlotte County Property Appraiser's website, the home is owned by Robert and Miryam Knutson.  Mr. and Mrs. Knutson are the former Chairman & CEO and President & COO, respectively, of EDMC, one the largest for-profit operators of colleges in the United States.
Mrs. Kutson recently gave an interview where she discussed plans to sell their Boca Grande home and other high-end properties in their portfolio.  Currently, they own a $25 million mansion in Beverly Park outside of Los Angeles.  Reports show the family is listing a 198-acre compound in Ligonier, Pennsylvania for $7.5 million, with plans to also sell a 36-acre resort in Durango, Colorado.  However, the Durango property is not currently on the market.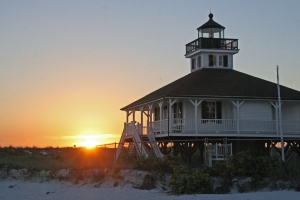 Boca Grande Real Estate Market
"We don't get many homes sold by auction here on Boca Grande, especially with no reserve," said Pearce Presnell, Owner/Broker of Boca Grande Realty Advisors.  "While this is a stunning property, which the listing price certainly reflects, we also have a wide variety of homes and condominiums in Boca Grande that fit different price points and tastes."
For more information on Boca Grande real estate firms, visit the Boca Grande Chamber of Commerce for a list of island real estate professionals.
Experience Boca Grande
Whether you're visiting, hosting an event, want to explore the surrounding area or hoping to purchase island real estate, drop us a line at Info@ExperienceBocaGrande with any questions.  We're happy get you pointed in the right direction to maximize your Boca Grande experience. #ExperienceBocaGrande.