Boca Grande Fourth of July marks another end of the "season" for the island.  While commerce and island life goes on, visitors and tourist activities slow to a trickle.  And despite Boca Grande's various seasons becoming less defined and instead more "year round" in nature, July 4th still marks a significant milestone on the island, as true island residents and area Floridians claim July, August and September for themselves.
Boca Grande Fourth of July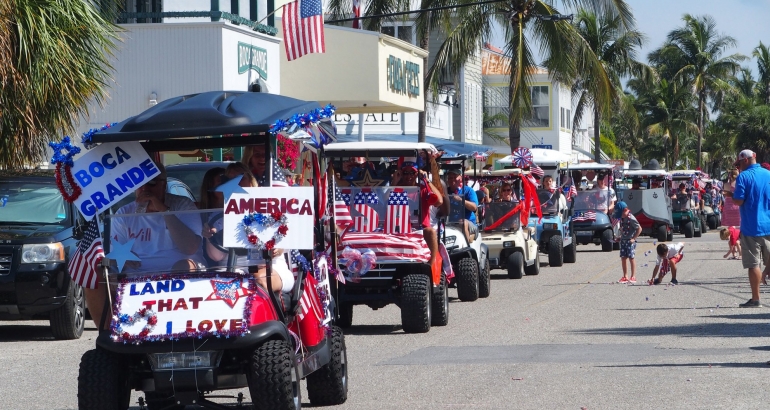 Boca Grande Fourth of July is known for fireworks and an amazing annual golf cart parade.  Every Fourth of July, island residents and visitors gather in Downtown Boca Grande with patriotically decorated golf carts.  The parade seems to grow every year with more than 100 carts participating this year!  This is a wonderful island tradition worth seeing for yourself.  The island is also fortunate to have two major fireworks displays. One at the Gasparilla Inn Beach Club and the other hosted by the Boca Grande Marina.
Another End of the Season
While Boca Grande seems to have several "seasons", Fourth of July marks the beginning of the slowest period on the island.  The Gasparilla Inn closes its doors until October.  This allows the Inn months for maintenance and the delicate upkeep required for this 105 year-old hotel.  Other area businesses and restaurants also close or adopt "Summer Hours" of operation. If planning a visit, it is important to know which restaurants and specialty shops are still open.  If you find yourself "on island" when your favorite restaurant is closed, don't  hesitate to venture to any number of incredible off-island restaurants.
Floridians' Season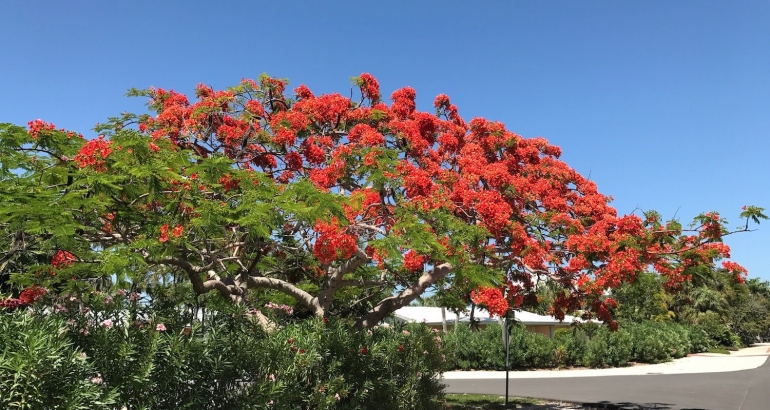 The Boca Grande "seasons" are distinct in many ways.  The primary and most popular (if defined by crowds) is the "high" or "snowbird" season. The High Season runs from mid-December through April.  During this time, the island sees an influx of visitors and part-time residents seeking a respite from the weather up North.  Next is Tarpon Season which starts with the tarpon fishery migration peaking in Charlotte Harbor in May and June.  Known as the "Tarpon Fishing Capital of the World" Boca Grande plays host to corporate functions and client entertainment.  Come July and August, the island is mostly "Floridians' Season" with families visiting from Tampa, Lakeland and Orlando taking advantage of boating and fishing before area schools start again.  The most active part of Hurricane Season runs from mid-August thru late October which is when Boca Grande truly runs on "island time" and is inhabited only by year-round residents also known as "rounders".
Seasonal Weather
Despite Florida's hot weather in July, August and September, ironically Boca Grande can still be nicer than many other cities throughout the United States.  Typical onshore Gulf breezes and afternoon thundershowers can result in temperatures in the 70s in the late afternoon and early mornings. Shade and swims in the Gulf can keep you cool in between when temperatures routinely reach into the 90s.
Regardless of when you are planning your visit to Boca Grande, there are always fun things to do.  As always, season and weather play major roles depending on your desired experience.  So come visit Boca Grande and be sure to use ExperienceBocaGrande as resource for your next visit.  Simply email us at Info@ExperienceBocaGrande.com