Despite Boca Grande's small village beach town style, the island is quickly becoming a hot spot for social media "influencers" and launch pad for some of the biggest brands in the retail industry. And while you may not notice them, these Boca Grande Influencers are among us and here to stay.
Intagram Stardom
If you have an instagram account, and follow particular accounts, you can watch product roll outs, celebrity photo shoots, bloggers and leaders of particular industries using Boca Grande as an idilic backdrop for their collective "brand" campaigns. Below Sara Hunt Hitson with 15,200 Instagram followers (IG handle: "sosarahhunt") gives you an idea of the shot and "product tags" she's promoting, including Chicwish, Diff Eyewear, Starmandsdesigns, Honeymoon Hats, Lisi Lerch, Jack Rogers USA, Like know.it and or course the Gasparilla Inn and Club!
How does it work?
There are countless photo shoots and product roll outs that occur in Boca Grande. If you know what to look for, you can watch the entire campaign come together right before your eyes. For example, a recent "Boca Grande Influencers" trip was used to tout the Sailor Sailor Clothing line. (click this link and see if you recognize a famous Boca Grande landmark?) You might not have noticed on your trip to Hudson's grocery or the Barnichol Hardware (yes, they have an instagram account "thebarnichol") but on social media and particularly on Instagram the campaign was in full swing. These groups of influencers, make up artists, retail reps and photographers were all posting on stories, tagging products, sharing locations all to add to product buzz. And it worked! (photo below includes IG: thenorthernprepster – 2,000+ followers (Jayme Elizabeth), theblondeconfetti – 14,000 followers (Sasha), thelovelyflamingo – 24,000 followers (Jill DiGioia), girlmeetsbow – 12,000 followers (Gentry Adams), nikkiahall – 78,000 follows (Nikki A. Hall), amyweilerphoto (Photographer).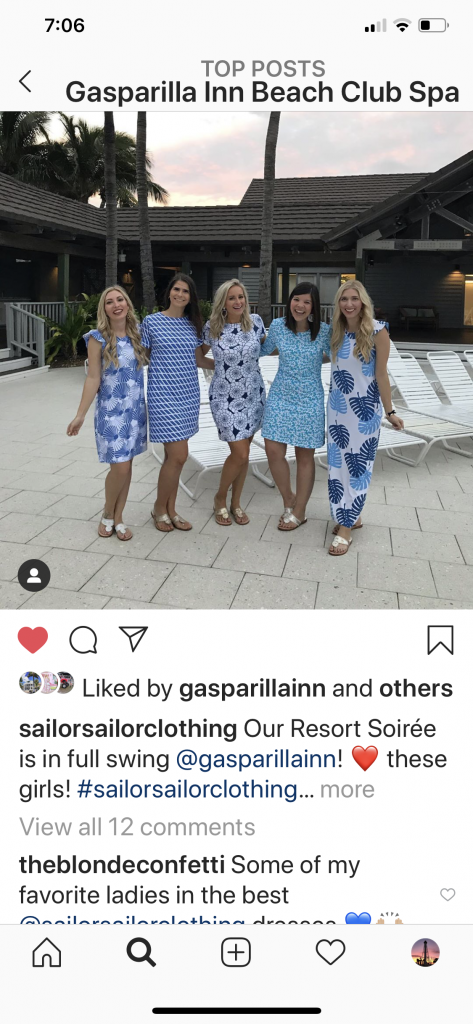 Whether Boca Grande Influencers are here for a particular product endorsement or simply here on vacation, they are always posting, tagging and sharing …or should we say "influencing"? Sydney Hoffman (Instagram "syd.hoff"), with more than 37,000 followers recently posted a photo enjoying her day at the beach. But on instagram, her "tagged" Urban Planet women's top took center stage just as the sun was setting into the Gulf of Mexico. And when she tagged "Boca Grande" as her location, people noticed.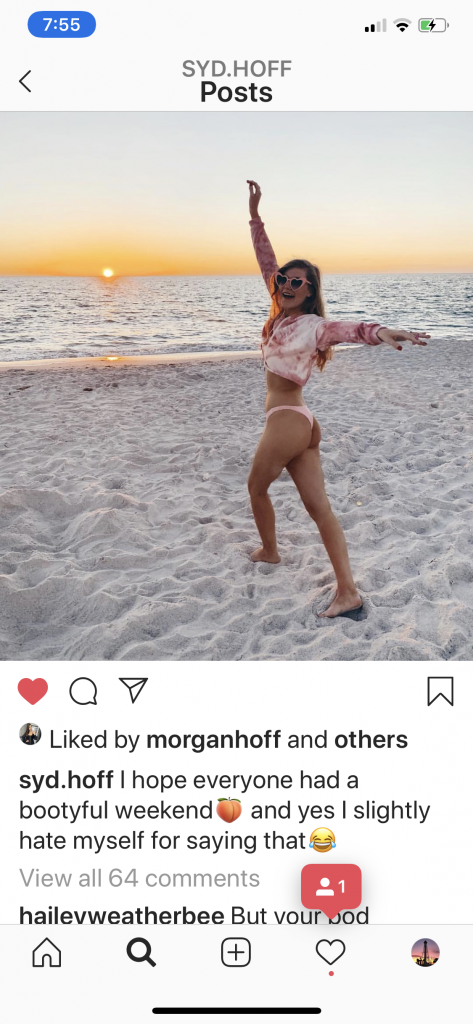 Likewise, when Chelsea Weier (IG "chelseaweier") decided to cast a line in the water, near the Boca Bay Pass Club, she tagged her Maaji swimwear so her more than 10,000 followers would notice. So how many people looked up Urban Planet or Maaji swim wear? How many looked up "Boca Grande"? And how many more people followed Sydney Hoffman or Chelsea Weier? Well, between them they have nearly 50,000 followers and counting!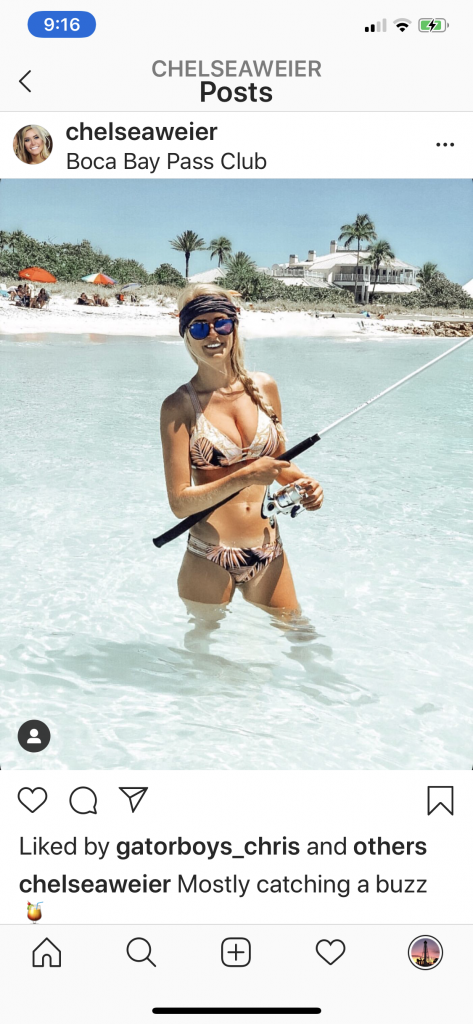 Boca Grande Influencers Are Here to Stay
Boca Grande influencers are good for business. Whether her on official business or just visiting, they usually stay overnight, rent golf carts, charter a boat, dine out at local restaurants, you name it. And sometimes, those Boca Grande businesses might just offer a "complimentary" meal or hotel room just to join in the "influencer" online buzz. Who wouldn't want their business tagged by someone with 10,000… 37,000 or 100,000 followers? It's big business and Boca Grande is on the map! Below "Milzmum" traveled from Sarasota to participate in an "island hopping" photo shoot where she tagged several represented brands with Cayo Costa as her backdrop. While "kinsey_fit_" used her opportunity to tag targetstyle, the Loose Caboose restaurant on Boca Grande and Forever 21 in a laid back island pose.
Want to get in on the Boca Grande Influencer Campaign?
Are you a Boca Grande business owner who wants to connect with an influencer to promote your brand ? Are you willing to offer a meal, hotel room, boat charter or free golf cart for the day? Or maybe YOU are the "influencer" or brand rep looking to connect with the right business or shoot the best setting? Either way, if you are interested in a Boca Grande influencer opportunity, drop us us an email at Info@ExperienceBocaGrande.com. As we become aware of opportunities, we will attempt to connect you with the right influencer to help your business grow.
Of course the best way to keep up with the Boca Grande influencer crowd is to follow @ExperienceBocaGrande on Instagram and Facebook. And don't forget to post you own photos. You never know? One day you might find yourself with one million followers!