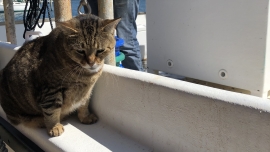 There is arguably no sign in Boca Grande that causes more excitement than the one announcing the Boca Grande Shrimp Boat is in!  And when you see that sign, you should run, not walk to Whidden's Marina on First Street down on the Boca Grande bayou. When the Boca Grande Shrimp Boat comes to port, word travels fast!  Within minutes of Captain CJ's arrival at Whidden's Marina, a line forms ten people deep.  But there is one person, or should we say animal who cuts to the front of the line every time.  We don't know his or her name, but this kitty cat clearly has some pull with the Captain and his crew!
Boca Grande Shrimp Boat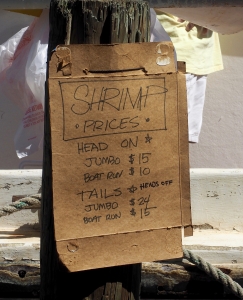 There you will find Capt. C.J. and crew selling the freshest shrimp you can buy…right off the back of the boat!  The makeshift cardboard sign simply reads, "Shrimp Prices" for "head on", "tails", "jumbo" or "boat run".  Bring cash, prices are by the pound, not by the dozen.  Depending on time of season, lines can get a little long as well.  But the prize is well worth the wait.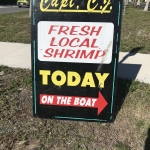 Get Your Shrimp Here!
The "Shrimp Boat Sign" is a clear indication Capt. CJ is in port.  But for those of you who require a bit more notice than the island "coconut telegraph", you can join the "Capt CJ Fresh Shrimp" Facebook group for updates.  Simply put the group "is for letting people know when the shrimp boat will be in with fresh shrimp."  The boat typically rotates between docking on Boca Grande and Matlacha near Pine Island and typically docks once a week when the shrimp are plentiful in the Gulf of Mexico.
Heads or Tails?  Boat Run or Jumbo?
What size shrimp and whether you buy "head on" or "tails" is all about personal preference and largely depends on how you plan to prepare your shrimp?  Many "everyday" chefs prefer the "head on" if grilling on an open flame.  "Head on" allows for a larger target to move around on the grill and some prefer the presentation on a dish as more authentic.  Another benefit of "head on" is that you can remove the head and vein yourself all at the same time.  "Boat Run" tails are perfect for gumbo or when the shrimp is part of several items on the plate.  If shrimp is the main attraction, potentially served with some corn on the cob and a vegetable, stick to the "jumbo" shrimp.  Grilling, boiling and frying are all good options.  With shrimp so fresh, the simpler and less distraction by other foods, the better!
Our Recommendation on Cooking Your Shrimp
Well, Bubba Gump lists several ways you can prepare your shrimp.  And there are endless ways to cook, prepare and serve.  However, the two most popular are to either grill or boil your shrimp.  Some folks like to grill the entire shrimp on an open flame.  But the best way, in our opinion, is simply to boil them.  Bring a pot of water to a large boil.  Add any seasoning (we like Old Bay) to the water.  If your shrimp have been on ice, then run tap water over them to bring them to room temperature.  This will allow the water to regain a boil faster.  Captain CJ says, "boil water, add shrimp, once it starts to boil again, they're done".  Typically about a four minute process.  But here is the important step.  Immediately after you remove the shrimp from the pot, submerge them in cold water and add ice!  Shrimp are like steaks, they will keep cooking inside their shell unless you cool them off.  And just like steak, the more they cook, the less tender they will be.  Serve immediately or simply put in the refrigerator for later.
Experience Boca Grande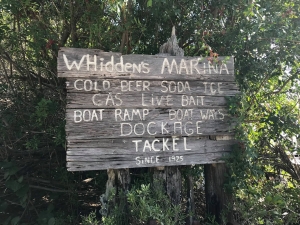 The primary reason to visit Capt CJ and the Boca Grande Shrimp Boat is the experience!  Visiting Whidden's Marina is an experience in itself, as you step back in time at this historic marina built in 1926.  Of course you will find no fresher shrimp.  And when you explain to your dinner guests, you bought your shrimp "right off the boat", you will gain serious "seafood credibility". Witnessing Capt CJ's operation of culling the shrimp, weighing the shrimp and bagging the shrimp as anxious customers hope they don't run out is an impressive operation.  And when you walk away with a few pounds of this seafood delight that was likely swimming only hours ago, your taste buds and anyone else lucky enough to dine with you, will thank you!
For more unique Boca Grande experiences, email us at Info@ExperienceBocaGrande.com