Whether you are visiting or a resident, there are Boca Grande signs all over the island of "things to do" and events to attend!  There are signs announcing the "shrimp boat is in", community announcements, fundraising banners, historical markers and much more. All you have to do is look around!
Boca Grande Signs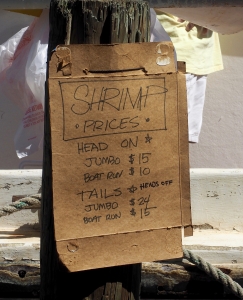 A favorite Boca Grande sign appears when the "shrimp boat" docks at Whidden's marina.  It doesn't get any fresher than shrimp right off the boat.  Jumbo or "boat run" shrimp are available with "head on" or "tails".  Visits by Capt. C.J. vary depending on time of year and weather, so when you see the sign, run don't walk to get you some fresh shrimp!
Community Signs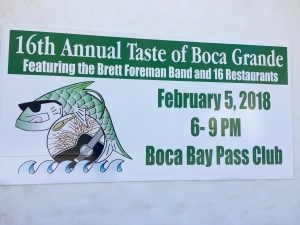 There are always Boca Grande signs of "upcoming events" happening on island throughout the year.  Check out the Boca Grande Chamber of Commerce message board and signs for the World's Richest Tarpon Tournament.  And pay attention to banners hung around town that announce art shows, Easter Egg hunts, pancake breakfasts, bingo, spaghetti dinners and other community events.  Don't be a stranger, simply join the locals and be prepared to meet new friends.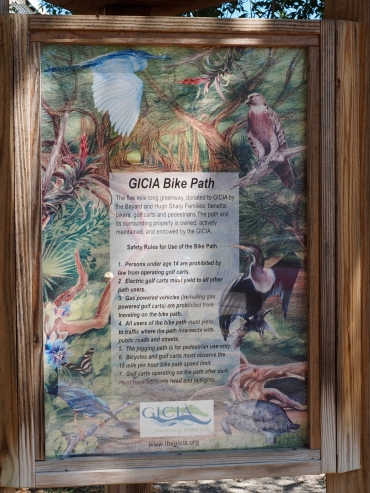 Another important Boca Grande sign are those that outline safety procedures for the GICIA (Gasparilla Island Conservation & Improvement Association) walking and golf cart path.  The rules are simple and specific.  The most important rule is that all golf carts yield to all others at all times; especially walkers, bicyclists and baby strollers!  Be courteous to others, remember you are on "island time", no one should be in a hurry.  A quick video tutorial of "Rules of the Road" can be found here.
Lectures – Community Center
Some signs are found "online".  During the "season", the Boca Grande Community Center hosts wide-ranging lecture series covering topics such as "America's Conflicts", "American Presidents", literature forums, health and well-being and more!  Just this past month, the center hosted Larry Kudlow, Jon Meacham, Lynne Cheney and other best-selling authors and notable professors.
Boca Grande Weathervanes – Signs of the Wind!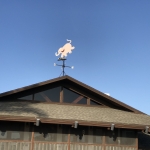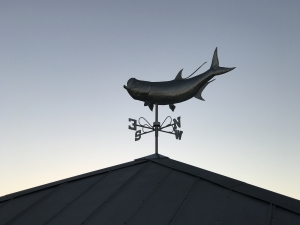 Many signs aren't signs at all, but more pieces of art!  But they also serve as "landmarks" for directional purposes.  Several large murals can be found throughout Boca Grande, including at the Boca Grande Marina, First Street near Whidden's and the "Silver King" mural of a jumping tarpon near the Downtown Post Office.  Other fun "directional signs" (wind direction that is!) are weathervanes perched atop island residents home.  These are beautiful, custom works of art in their own right.  The perfect way to experience island murals, weathervanes and significant architectural features is to rent a golf cart and tour the island.

Island History
Also pay attention to the island's history.  Boca Grande signs and historical markers reveal a rich history and cultural opportunities to explore.  Sign up toclimb the historical lighthouse, walk through considering booking a room at the 102 year-old Gasparilla Inn & Club or stop by visit the Whidden's Maritime Museum.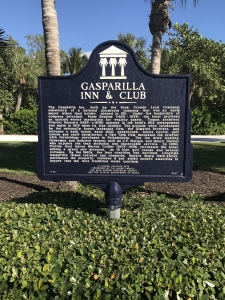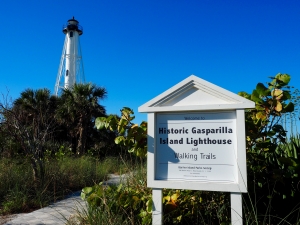 Actual street signs in Boca Grande can be informative and whimsical.  Banyan Street for example is an island landmark and one of the most photographed streets on the island.  The street is covered in full shade from the towering banyan trees.  Also, don't forget to visit the "Dam" streets for fun photo ops in front of each street sign:  "Damficare," "Damnfino" and "Damfiwill".  Of course "Railroad" Avenue runs next to the historic train depot where the old rail lines once carried boxcars full of phosphate mined from Central Florida and shipped to Port Boca Grande due to the naturally deep Boca Grande Pass before the days of port dredging.
And when you are exhausted from looking and exploring all of the Boca Grande signs and sites, you should look for just a few more!  With an appetite, keep an eye open for signs and lunch or dinner special boards for restaurants.  You simply can't wrong with any restaurant on the island, but if you see a fresh fish offered like cobia, tripletail or stone crabs, take advantage!  And pay close attention to the signs at the bar at the Temp and Cabbage Key, both offering sage advice for proper island attitude.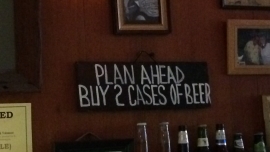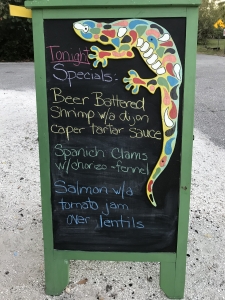 Pay Attention to the Signs!
So next time you are on Boca Grande, pay attention to the signs around you.  You might learn a little, decide to attend a community event, appreciate some art, laugh to yourself and maybe enjoy a meal of a lifetime.
So, "plan ahead"!  And come back tomorrow!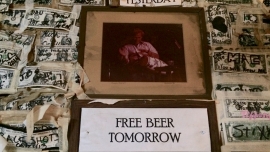 #ExperienceBocaGrande