Boca Grande is known for its amazing sunsets over the Gulf of Mexico.  But did you know that Boca Grande's sunrise coming over the massive Charlotte Harbor can be equally beautiful?  Island residents and visitors who know, take advantage of this quiet time on the island and the best vantage points to observe the start of the day.  With help from drones and time lapse, we have provided a few wonderful examples of the Boca Grande sunrise.  We have also listed a few examples and opportunities to maximize and enjoy this time of the day.
Boca Grande Sunrise
Just like sunset, visitors can easily determine when the Boca Grande sunrise will occur each morning.  Simply google, or better yet ask Siri, "Hey Siri, when is Boca Grande sunrise"?  Then get out on a golf cart, bike or walk to find your best vantage point.  A favorite spot is the Harbor Drive bridge overlooking the Boca Grande Bayou, Gasparilla Inn Golf Course and Charlotte Harbor.
Boca Grande Wakes Up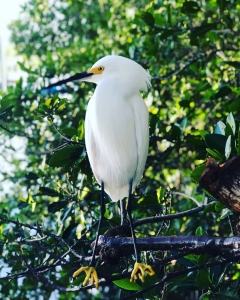 Another bonus of getting up early is that you beat the crowds for coffee and breakfast spots.  The Inn Bakery opens at 6:30 every morning, so you can grab a cup of coffee before or after you watch the Boca Grande Sunrise.  You will also better experience wildlife from wading shorebirds fishing for their breakfast, manatees floating down the Boca Grande Bayou and Osprey plucking fish from the Gulf or Charlotte Harbor.
Fishing Guides Prepare for the Day
Being a Boca Grande professional fishing guide seems like a glamorous profession.  And it can be!  Most Boca Grande fishing guides love their jobs and it shows.  You will notice many of them preparing for the day before the sun comes up.  You will find them launching their boats or heading out hours in advance of their scheduled charters to catch live bait for the day.  Owning and running a boat is a sun up to sun down job, requiring constant work.  Walking the island docks and marinas before sunrise can give clues to what these captain's have in store for their clients.  And if you are fisherman yourself, you can often pick up important tips as to what "what's biting" depending on a guide's tackle and bait, as well as weather patterns and tides.
The Rest of Your Morning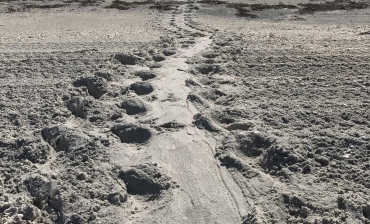 Early morning walks on the beach are not only scenic and good exercise, but often the best time to collect undiscovered shells that have washed ashore from the night's weather and tides.  During turtle nesting season, you will discover fresh tracks from massive sea turtles who laid their eggs only hours earlier.  Boca Grande has a 6-mile long "walking & biking" path where the old railroad line once stretched the length of the island.  While the path can get crowded during the day, in the early morning you typically have it all to yourself with a few other early-risers.
Boca Grande has so many things to do, including the beach, fishing, shopping, restaurants and of course the daily light show of sunset that people gather for every evening.  But don't forget the Boca Grande Sunrise and the hour or so before.  You will be richly rewarded with what you might discover.  If you are seeking other "off the beaten path" opportunities during your stay on Boca Grande, don't hesitate to contact us via email at info@ExperienceBocaGrande.com
#ExperienceBocaGrande