While visiting Boca Grande there are numerous day trips available either by car or by boat in the surrounding area.  One trip you should not pass up is a boat trip from Boca Grande to Matlacha.  If you don't have your own boat, consider hiring a Captain on charter for a few hours.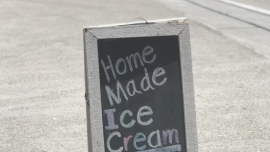 Boca Grande to Matlacha
Matlacha, is pronounced "Matt-La Shay" and rhymes with "sashay".  It is a small town with no stop lights.  The town shops and restaurants straddle both sides of the single two-lane road just on each side of the bridge that that connects Cape Coral and Pine Island spanning Matlacha Pass.
Boca Grande to Matlacha is an easy boat ride, with the right weather, just southeast across Charlotte Harbor from Boca Grande.  There are a few sandbars on the way, but channel markers are clear and guide you directly into this charming town.
Bars & Restaurants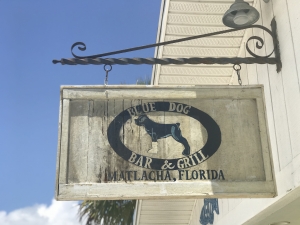 Once you dock your boat, there several great spots for lunch or drinks, all within walking distance.  The Olde Fish House Marina offers dockside dining and a grouper wrap that is out of this world!  Bert's Bar & Grill is another favorite for casual dining, cold drinks and a great view Matlacha Pass.  The Blue Dog Bar and Grill calls itself a "playful haunt for seafood and tap brews" and they are right!
Art Galleries
Of course, Matlacha is known especially for its artsy, eclectic and bohemian vibe.  You can walk the entire length of the town and visit several unique art studios, bars, restaurants and gift shops.
Stop at Great Licks Ice Cream Shop for scoop or two of their homemade ice cream, then enjoy shopping at Island Visions, which is located in the same building.  This is a great stop on a hot Summer day for a cold treat and air conditioned gallery!
The most colorful art gallery is Leoma Lovegrove Gallery and Gardens.  The artwork is amazing and the gardens out
back are tropical and decorated with glass bottles and sea buoys.  A great place to take the kids when they are offering clay sculpting lessons.  Next door is Wild Child Art Gallery, another fun stop.
Shrimp Off the Boat
If you are extra lucky, Capt C.J.'s Shrimp boat will be in port, selling fresh shrimp right off the boat.  In addition to Boca Grande stopovers, Capt. C.J.'s official port of call is Matlacha.
So if you are looking for a fun day trip from Boca Grande or find yourself in Southwest Florida, then Matlacha should not be missed.  ExperienceBocaGrande.com can assist with recommendations for docking, chartered cruises or plans for the day out on the water.  Simply email us at Info@ExperienceBocaGrande.com with any questions.