Off Island Restaurants of Boca Grande
In addition to the wonderful Boca Grande restaurants on Gasparilla Island, there are also several off island restaurants of Boca Grande that should be not be missed.
Why travel "off island"? Well for starters, the food! Second, is menu and dish diversity. And it's also important to remember that Boca Grande restaurant reservations can be tough sometimes and that many are closed certain days of the week and even months at a time due to slower seasonal visitors.  So, if you are considering an off island restaurant of Boca Grande, here are a few that should be at at the top your list:
Nicola's Italian Kitchen
There are a few stand-outs in the crowd, and Nicola's Italian Kitchen is at the top of the list! Nicola's, a longtime family-owned restaurant is described as "an authentic Italian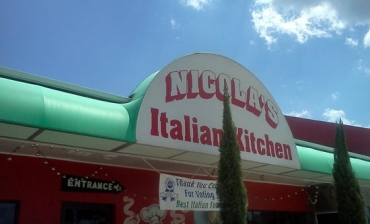 restaurant" where the food is "made from scratch just the way it was at the family gatherings."  Located in Englewood, Nicola's is an easy choice for anyone seeking to trek off island for an authentic Italian dining experience.  In fact, Nicola's can go "toe to toe" with any big city or favorite neighborhood Italian restaurant!
Of course all the "traditional" plates are offered, but look for the house specials including: "Tina's Gnocchi" and "Tina's Frutti di Mare" with shrimp, crabmeat, fresh clams, mussels and calamari sautéed in white wine and garlic sauce or marinara sauce over linguini.  Make sure you start with the Bruschetta al Pomodoro, Antipasto Insalata or Caprese…or all three! There is not enough space to list all the amazing dishes, so take a look at the menu for yourself!  Lunch and dinner offered.  Reservations are not accepted, but "call ahead seating" can be a good idea.
Live Entertainment
Next on our list for off island restaurants of Boca Grande is the Beach Road Wine Bar and Bistro on the way to Englewood Beach.  Serving lunch and dinner, the "BRWB" offers traditional bistro fare, including seared tuna, crab cakes and steaks.  The Cuban Panini offered at lunch is a great choice, pressed to perfection.  Check calendar dates when live entertainment is offered. The "BRWB" is hard to beat for its laid back atmosphere, attentive staff and "on the water location".

Another "on the water" location is The Lighthouse Grill co-located with the Stump Pass marina. Open daily for lunch and dinner the patio overlooks the beautiful inter-coastal waterway in Englewood.  Menu favorites include the "Admiral's Gilled Reuben", burgers, wings, shrimp baskets and fresh grouper.
Noy's Bistro and Lounge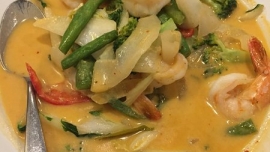 Earlier we mentioned "stand-out" restaurants such as Nicolas Italian Kitchen.  Another restaurant that should not be missed is Noy's Bistro and Lounge in Rotonda West.  In terms of Thai food, Noy's flavorful dishes rival or surpass any of your favorite Thai restaurants back home.  Start with the Thai Lettuce Wrap or Shrimp Tempura.  The Pad Thai is unapparelled and best enjoyed with chicken and shrimp.  If you like curry, don't miss the Green Curry with shrimp.
The greater Englewood, Rotonda, Placida area just off Gasparilla Island offers wonderful restaurant options for anyone in the area or staying on Boca Grande.  If you find yourself locked out of a reservation "on island" or craving authentic Italian, Thai or live entertainment, do yourself a favor and check out some the restaurants just off the island of Boca Grande.