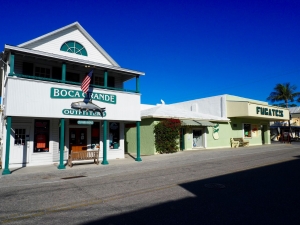 There are dozens of retail shops Boca Grande. Downtown has many options for all of your shopping, grocery and catering needs.  You can spend a few hours and easily walk to most all establishments. From clothing and furniture to fishing and hardware needs, the opportunities are aplenty.
Shopping, Grocery and Catering
At "Main & Main" in downtown Boca Grande you will find two very important establishments.  The first is Fugates, the island's best "catch all" retail store.  From small forgotten items such as reading glasses, shaving cream and reading materials to more upscale "just got invited to fancy dinner" requirements like dress shoes, slacks and a sports coat.  Fugates is your best bet for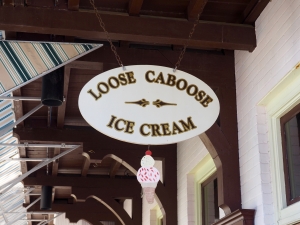 "one stop shopping".  Across the intersection is the wonderful "Loose Caboose" ice cream shop with all your favorite flavors and hand-made milk shakes!
Clothing and More…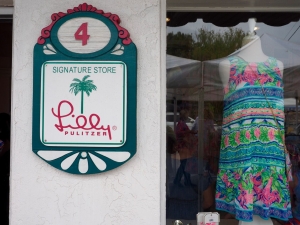 Virtually all the retail options are within a block of one another downtown.  The Palm on Park, a Lilly Pulitzer Signature Store is where you find many of the ladies inside shopping the latest in fashion, and a few husbands catnapping on the Adirondack chairs outside.  Fresh Produce also offers a wide variety of beachwear for women.  Gasparilla Outfitters carries outdoor and travel clothing for men and women.
Boca Grande Style
For the men (and women too) make sure you stop at Boca Grande Outfitters, which epitomizes the island lifestyle with specialty clothing and gear for boating and fishing enthusiasts.  And although visiting a hardware store on an island might seem strange, Barnichol Hardware offers much more than just hardware, including yeti products, sunglasses, fishing supplies and more.
Shopping, Grocery and Catering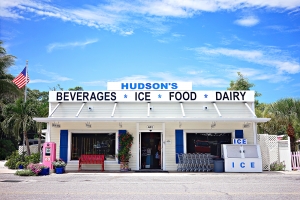 And if cooking in is on the menu during your stay in Boca Grande, Hudson's Grocery is your best bet for a wide variety of staples, including a full butcher, fresh fish, wine, and much more.  Newlin's Specialty Grocery offers authentic New England lobster rolls, crab cakes, a variety of soups, catering, and a daily dinner special.  Kappy's market, with two locations, offers typical grocery items as well as some "beach" toys.  And if you are lucky enough to see the sign that says the "Shrimp Boat Is In", but sure to rush to Whidden's Marina and buy fresh shrimp right off the boat! "Heads On" shrimp optional!
Of course whatever your Boca Grande shopping, grocery and catering needs may be, ExperienceBocaGrande is here to help.  Simply email us at Info@ExperienceBocaGrande.com  We can help plan a catered event, suggest wedding gifts from the island or suggest the perfect corporate shopping getaway.  #ExperienceBocaGrande