Have you even wondered what Heaven looks like for dogs?  Well the Boca Grande Dog Park might be the closest thing to "Heaven on Earth" for our canine companions.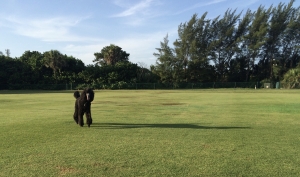 Can you imagine the perfect place to take your four legged pet?  How about a place with manicured grass.  A safely fenced area on about 3 acres to keep your pet safe.  Now picture the property sitting directly on the Gulf of Mexico with unobstructed views of the crystal clear water and amazing sunsets.
Boca Grande Dog Park
Sound too good to be true? Well, not for the dogs of Boca Grande!  Although not officially a "park", unofficially the Boca Grande Dog Park occupies private property owned by the Gasparilla Inn.  The land is directly on the Gulf of Mexico near downtown Boca Grande wedged between the Gasparilla Inn Beach Club and multi-million dollar mansions.  The Inn and their owners graciously allow dogs and their owners a safe place to exercise and mingle.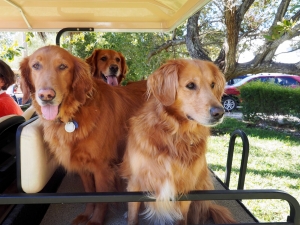 Boca Grande has always been known for its dog friendly culture.  In fact, on any given day you will find masters and their beloved companions riding around the island on golf carts, boating on the bayou or exercising on the walking path.  Boca Grande is so serious about the health and well-being of their pets, that an ecumenical "Blessing of the Animals" occurs every year.  The Boca Beacon, the island paper, announced this year that "all churches will be participating, so your pet's denomination of preference will be represented."
A Dog's Life…
The Boca Grande dog park epitomizes a "dog's life" on the island.  The land is fenced and supplies plastic bags to so you can "pick up after your pet". The end of the day is typically when you find the park filled with dozens of dogs.  The unofficial rule during the season, typically from December to April is "little dogs" at 3:30 and "big dogs" at 4:30.
Of course your dog should be socialized with people and other dogs.  If you don't "pick up" after your pet, someone will quickly remind you.  If your dog is behaving poorly or playing too aggressively, you should leash your pet and return when the park is empty.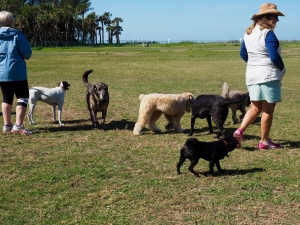 Even if you are not a dog owner, the Boca Grande Dog Park is worth a visit.  You will find pure breeds and mutts.  And of course you will find friendly "dog owners", all with interesting stories about their pet or when they "first visited Boca Grande".
Experience Boca Grande
So next time you are on island and looking for a "dog day experience", visit the Boca Grande Dog Park.  Enjoy the dogs.  Visit with their owners.  Or simply take in the fresh breeze off the Gulf of Mexico.  It is simply the nicest dog park you will ever experience.  #ExperienceBocaGrande