Boca Grande Farmer's Market is a seasonal market held at the island ball fields – 305 Wheeler Road in Boca Grande, Florida.  The market takes place on Fridays during the "season" from December 1st through April 27th from 9 a.m. to 1 p.m.
Each Friday, a wide variety of local vendors cross the Gasparilla causeway from the mainland to the beautiful island of Boca Grande, offering fresh produce, seafood, cheeses, meats, flowers, organics, crafts and more.
Make a Day Out of It!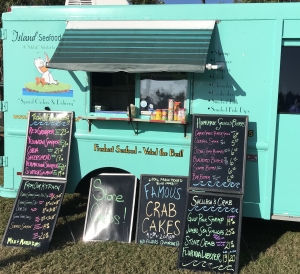 The best way to take full advantage of the Boca Grande Farmer's and the island is to make a day out of it!  ExpBG Pro Tip:  Stay for the day and bring a cooler to keep items such as cheese, fish and produce refrigerated during your visit.
After visiting the market, there are so many "things to do" on island to enjoy the rest of you day  You may choose to rent a golf cart and explore the island or visit BOTH of Boca Grande's historic island lighthouses?
If lunch is on the menu, you should consider Miller's Dockside overlooking the Boca Grande Marina, grab lunch or ice cream at the Loose Caboose in the historic rail road depot downtown or enjoy the one of kind Pink Elephant near the bayou.
Shopping and more…
Boca Grande is home to amazing shopping opportunities.  Fugates, located in the heart of downtown offers clothing, home products and island memorabilia.  Boca Grande Outfitters epitomizes the island lifestyle with specialty clothing and gear for boating and fishing enthusiasts. The Palm on Park, a Lilly Pulitzer Signature Store, will dazzle you with "home grown" hospitality, patterns and style.  And although visiting a hardware store on an island might seem strange, Barnichol Hardware offers much more than just hardware, including yeti products, sunglasses, fishing supplies and more.
So if you decide to visit the Boca Grande Farmer's Market, make a day or weekend out of it!  And of course please contact Info@ExperienceBocaGrande.com for more information to make the most out of your Boca Grande experience.