There are many "signs" you should visit Boca Grande.
If you are looking for "signs" you should visit Boca Grande, all you have to do is look around!  Whether inviting murals showcasing island life or basic street signs, all of the "signs" are amazing pieces of art.  Whether driving around the island on a golf cart tour, exploring the best real estate option or enjoying a casual stroll at sunrise, keep on the lookout for these amazing signs.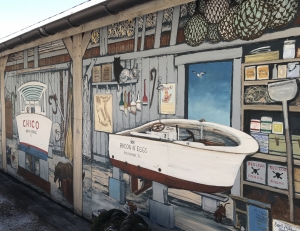 The Temptation Restaurant, in addition to having amazing menu items like fresh grouper, pompano or triple tail; is home to several stunning murals.  The paintings reflect island history, including fishing in the Pass, the old Phosphate dock, and historic Boca Grande life.  Enjoying a little art history while you dine on pan seared snapper is hard to beat!
BZ's, the bar at The Gasparilla Inn has a beautiful mural depicting wildlife along the mangrove shore of Boca Grande.  From pelicans, wood storks and ospreys, the wildlife and scenery is beautiful.  This is especially true as you enjoy a cocktail while playing bat gammon or simply relaxing in the under the pecky cypress decorative beams.
Boca Grande Murals:  Amazing Works of Art!
Whidden's Marina located near downtown Boca Grande on First Street boasts an amazing mural along the side of garage depicting scenes from an old boat yard.  The artwork includes boats with names like "Chico" and "Bacon & Eggs", fishing nets under repair and of course a few dogs laying around in the background.  A depiction of Boca Grande life that still holds true today.
The Boca Grande Marina has a huge mural overlooking the boat dock. Of course the scene is boating and fishing in keeping with the marina theme.  Specifically the mural depicts a perfect afternoon drift in the Boca Grand Pass fishing for tarpon.  As the historic Boca Grande Lighthouse appears prominently in the background, fisherman are hooking tarpon in the foreground.  A seaplane carries a banner advertising …you guessed it:  Boca Grande Marina.
And in downtown there is mural of a jumping tarpon aka the "Silver King", which is the fish that makes Boca Grande the Tarpon Fishing Capital of the World.
So, come visit Boca Grande and see the signs for yourself!