While the recent Boca Grande red tide has been as bad as many can remember, it is important to understand it is temporary.  And more importantly, that there are several things you can do to minimize your exposure to this unpleasant phenomenon and maximize your day at the beach.
What is Red Tide?
Mote Marine describes Florida "red tide" as, "a higher-than-normal concentration of a naturally occurring, microscopic algae called Karenia brevis, often abbreviated as K. brevis. It produces brevetoxins — powerful and potent neurotoxins — that can kill marine animals and be harmful to humans. Red tides form many miles offshore, sometimes causing no impact to humans. However, when red tides travel inshore on wind and water currents, they can cause respiratory irritation among beachgoers, especially those who have underlying lung diseases."
Day at the Beach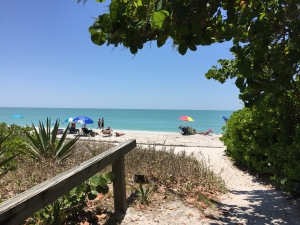 It is important to understand that the impact to humans and wildlife by red tide can be extremely varied. Impact depends on location, geography, wind and tides.  For example, the recent Boca Grande red tide outbreak this June was heavy on the North end of the island and moderate on the South end.  That's not to say that moderate can't be uncomfortable, annoying and impactful to wildlife, but there is a difference and impact can be better or worse just miles apart.
If you are planning a day at the beach or have already booked a hotel stay in any area impacted by red tide, there are several things you can do minimize its impact and maximize your enjoyment.
Plan Your Visit
First, use fact-based websites for reports. Mote Marine's "Beach Condition" report gives you a detailed report of beach conditions at various beaches and parks along the Florida Coast.  Each beach report gives you information related to water conditions, respiratory impact and dead fish. Check area beach reports and find one with the best conditions. Remember, red tide is usually only severe enough and close enough to shore to impact our beaches just a few weeks out of the entire year.
Other websites such as NOAA and Florida's Wildlife Commission actually track where the current red tide is located and usually what direction it's moving. So for example if the red tide is concentrated just off shore, but the wind is blowing from the East (out to sea), respiratory impact is typically nonexistent. Look at the longterm forecast during your stay, especially wind direction.
Tides always matter when taking a trip to the beach. Is the tide coming in or going out during your time at the beach? Typically a higher tide results in cleaner and clearer water conditions. This is true regardless of red tide conditions. Check tide reports ahead of your trip and if you can target the higher tide parts of the day.
Boca Grande Red Tide – Check Local Contacts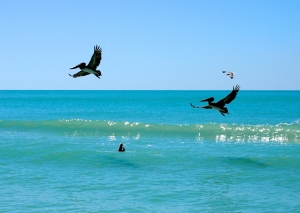 Check local contacts.  Do you know anyone in the area?  Call an area marina and ask them for a weather report.  If there is a local newspaper? Check out social media pages.  In Boca Grande, the Boca Beacon gives an unbiased report on conditions.  You can also view webcams in the area to see beach and water conditions.  Make sure you check multiple sources as some businesses may paint a rosier picture for fear of losing business.
Red tide has always been present in the Gulf of Mexico and especially on the west coast of Florida from Tampa Bay to the Ten Thousand Islands of the Everglades. The impact can be nonexistent to severe. Conditions can impact your trip, but just like the weather, it is important to take steps that give you the best odds for a great day at the beach if red tide happens to be present.
Impact depends mostly on weather (wind direction!), tides and luck. Red tide has always been temporary and you can take steps from rescheduling your visit, picking a time of the day when the wind direction and tides are ideal or literally visiting another beach miles down the road.
For more information on beach conditions on Gasparilla Island or plans for your Boca Grande experience, drop us an email at Info@ExperienceBocaGrande.com